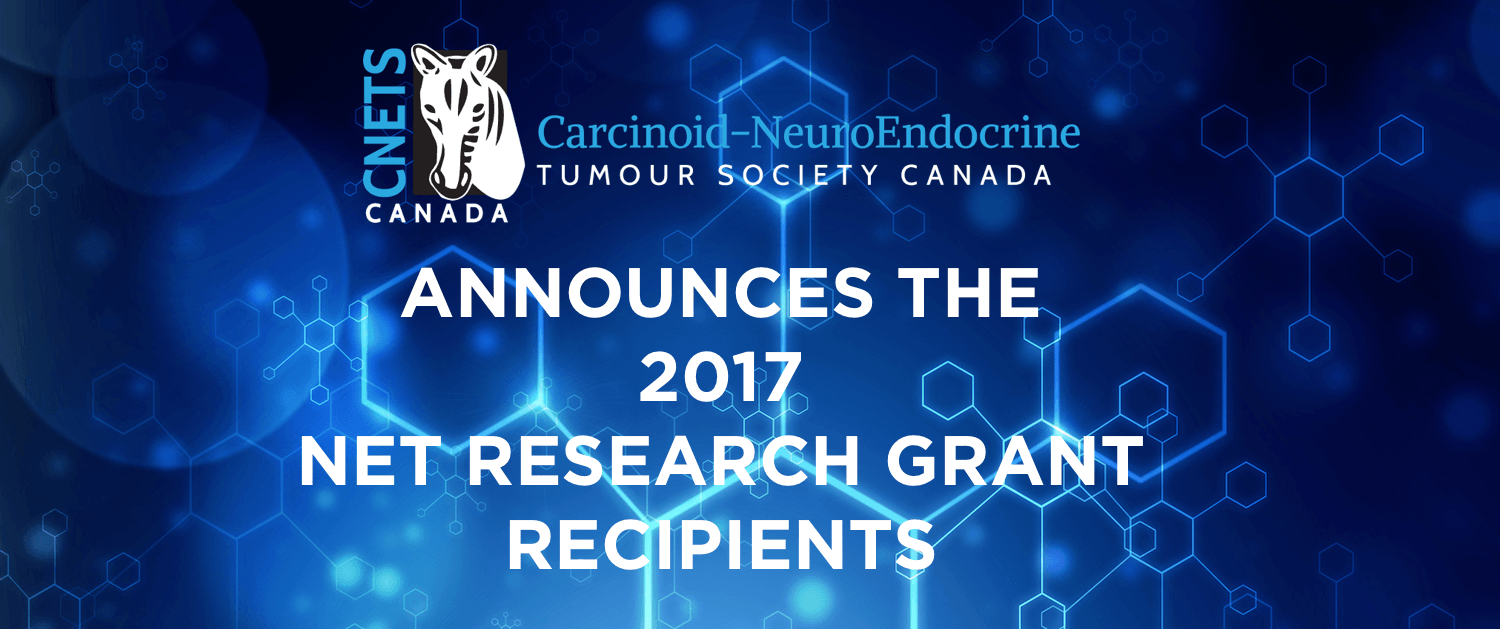 CNETS Canada is committed to improving the quality of life and survival for NET patients across Canada and in support of this vision introduced a new Research Funding Framework in 2016. The CNETS Canada Neuroendocrine Tumour Research Grant, provides grant-in-aid for two projects up to a maximum of $40,000 per project, per calendar year. 
The NET research funding priorities were determined through consultation with the NET patient community, and input from CNETS Canada's Scientific and Medical Advisory Board (SMAB).   To be eligible for the 2017 NET Research Grant, it was determined that the project must be a clinical trial or a clinical or fundamental research project (including animal or cellular models) to examine issues relevant for the diagnosis and treatment of Neuroendocrine tumors (NETs).
This year, we received eight applications for NET cancer research projects in Canada, an excellent level of interest and reflects the growing number of clinicians and centres with a focus on NET cancers.  The review and recommendation process was carried out by a Grant Review Committee, chaired by CNETS Canada Scientific & Medical Advisory Board Co-Chairs, Dr. Girish Shah and Dr. Jean-Luc Urbain.   Additional panel members included one patient and three members of the CNETS Canada Scientific & Medical Advisory Board, in addition to an oncologist and a radiologist from within the Canadian NET community.  Proposals were assessed on medical and scientific merits and overall value proposition and the ultimate granting decision was made by the CNETS Canada Board of Directors.
CNETS Canada is delighted to announce the two 2017 Neuroendocrine Tumour Research Grant Recipients, focusing on the areas of lung NETs and immunotherapy for high grade NEC patients.
CNETS Canada congratulates the successful applicants and further acknowledges the hard work, dedication and passion of all applicants.
These funding decisions are for information only. Only a fully executed letter of agreement will constitute the official record.
2017 NET Research Grant Recipient
Dr. Philippe Joubert
Quebec Heart & Lung Institute (IUCPQ) – Université Laval
Comprehensive clinical and molecular characterization of diffuse idiopathic pulmonary neuroendocrine cells hyperplasia (DIPNECH)
DIPNECH is a recently described respiratory disease defined by the proliferation of several foci of neuroendocrine cells affecting both lungs, and leading to airway obstruction, development of multiple neuroendocrine tumors, and sometimes to respiratory failure. Unfortunately, the disease is poorly characterized both at clinical and molecular levels, which explains why the current clinical criteria are ill-defined and the condition under recognized and misdiagnosed. Furthermore, there is no standard treatment for the patients symptomatic of the disease or progressing towards respiratory failure. It is therefore urgent to better understand the pathophysiology and the molecular alterations underlying the development of this condition in order to develop animal and in vitro models to identify potential targets that may lead to new treatments.  The  study proposes to refine the clinical diagnostic criteria and to analyze the key-genomic events involved in the development of DIPNECH.
2017 NET Research Grant Recipient
Dr. Simron Singh 
Sunnybrook Health Sciences Centre

Predicting response to immunotherapy in neuroendocrine carcinoma
Neuroendocrine tumours can vary widely in behaviour, but Grade 3, poorly-differentiated neuroendocrine carcinomas (NECs) are aggressive. Patients with metastatic NECs, on average, live for less than a year. Chemotherapy is often used for Grade 3 NECs but has many side effects and generally stops working after several months. We are trialing immunotherapy (using a drug called avelumab) to see whether this drug is effective in controlling disease in patients with metastatic NEC. We plan to look at aspects of the tumour tissue (mutational load, T cell repertoire) in order to determine whether this can help predict responses to immunotherapy in Grade 3 NECs.