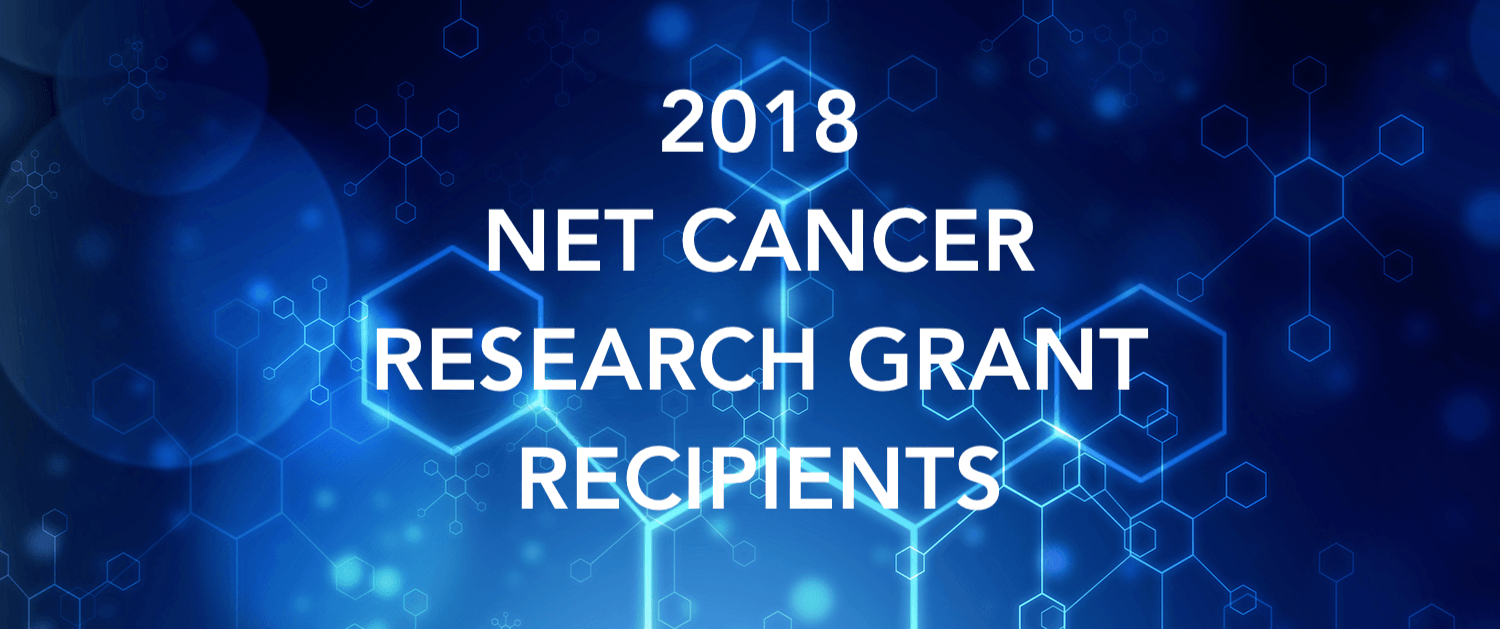 CNETS Canada is committed to improving the quality of life and survival for NET patients across Canada and in support of this vision introduced a new Research Funding Framework in 2016.
The 2018 NET Research Grant will provide grant-in-aid for THREE projects up to a maximum of $40,000 per project.
The third NET Research Grant was made possible thanks to the tremendous fundraising efforts of Bailey and Jonathan Daniels. In their honour, this NET research grant will be named The Daniels Constellation Grant for Neuroendocrine Cancer Research.
The NET research funding priorities were determined through consultation with the NET patient community, and input from CNETS Canada's Scientific and Medical Advisory Board (SMAB). To be eligible for the 2018 NET Research Grant, the project must be a clinical trial or a clinical or fundamental research project (including animal or cellular models) to examine issues relevant for the diagnosis and treatment of Neuroendocrine tumours (NETs). Recommendations were submitted to the CNETS Canada Board of Directors.
CNETS Canada is delighted to announce the 2018 Neuroendocrine Tumour Research Grant Recipients:
2018 NET RESEARCH GRANT RECIPIENT
Dr. Rachel Goodwin, Medical Oncologist
Ottawa Hospital Research Institute (OHRI)
Cognitive assessment of GI NET patients with carcinoid syndrome – a pilot and feasibility study
About 40% of patients with small bowel tumors develop carcinoid syndrome (CS) but it takes multiple years before a diagnosis is made. Pasieka et al. reported significant cognitive impairment in NET patients with CS. We plan a prospective, multicentre study to test the hypothesis that somatostatin analogs therapy improves the cognitive dysfunction in these patients.
We propose a pilot feasibility study to assess the research protocol, data collection instruments, recruitment strategies, research techniques in preparation for the larger study. The pilot will enroll 10 CS patients in 4-5 tertiary Canadian cancer centres. We will test with researchers whether the protocol is workable, recruitment of subjects achievable, identify logistical problems with data collection, adequacy of cognitive assessment tools and patients' adherence to the re-test schedule. Preliminary data collected will help researchers concentrate the protocol on a narrow spectrum of specific cognitive dysfunctions.
2018 NET RESEARCH GRANT RECIPIENT
Dr. Neil Renwick, Clinician Scientist, Pathology & Molecular Medicine
Queen's University/Kingston Health Science Center
Laying the groundwork for a simple microRNA-based blood test to diagnose and monitor all neuroendocrine tumors
Neuroendocrine tumors (NETs) are increasingly common cancers that are hard to diagnose and monitor. Some NET patients wait many years before getting an accurate diagnosis, giving their cancer time to spread. Even after diagnosis, patients with aggressive disease may need frequent imaging follow-up to plan their care. Earlier diagnosis and easier monitoring would allow faster access to effective treatment. microRNAs are genetic control molecules that are present in all human cells. Some microRNAs are also excellent disease markers because they are found in only one cell type.
We believe we have found a single microRNA that is only found in neuroendocrine and neuroendocrine tumor cells. In this proposal, Drs. Renwick and Singh combine their expertise in microRNA detection and NET clinical care to develop a simple blood test to diagnose and monitor all NETs. This simple test is expected to improve the lives of Canadian NET patients by enabling faster access to life-preserving treatment.
THE DANIELS CONSTELLATION GRANT FOR NEUROENDOCRINE CANCER RESEARCH
Dr. Sten Myrehaug, Physician, Radiation Oncology
Odette Cancer Centre, Sunnybrook Health Sciences
Extending immunotherapy to NET patients with radiotherapy: A correlative study
Although used in other tumor sites, immunotherapy has not shown great clinical results for patients with neuroendocrine tumors (NETs). NETs typically have a low rate of genetic mutations, making it difficult for the body to mount an effective immune response. Radiation has been shown to cause DNA breaks and will stimulate an immune response to tumors. Therefore, combining radiation and immunotherapy may produce improved results in NETs patients.
This study aims to identify how radiation may cause immune-related changes in neuroendocrine tumors, which may be harnessed to increase the effectiveness of immunotherapy agents. Patients will be selected to receive high-dose radiation to a site of cancer, which will be biopsied (sampled) afterwards to analyze what changes radiation may be effecting on the cancer cell or surrounding tissue. If radiation is proven to cause immune-related changes, it would provide evidence to combine radiation and immunotherapy in future clinical trials.