Obituaries, tributes and memories of NET community members who have passed away due to NET cancer.
Please email support@cnets.ca if you would like to add to the In Memoriam page.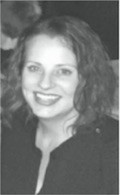 November 4, 1970 – June 16, 2016
It is with great sadness that we share the news of the passing of Jennifer Weiss, CNETS Canada Support Group Leader for North Vancouver, British Columbia.  Jennifer was a pancreatic NET patient who provided great support to many NET patients in British Columbia for a considerable number of years.  She was known as a true "trailblazer" among the community in terms of being a tremendous self-advocate.  Jennifer was one of only a handful of NET patients in Canada to have a liver transplant to deal with her extensive liver metastases.  She continually sought the best care and treatment options for herself, nationally and internationally.  She was courageous and faced an ongoing battle with her health over the years but one would never have known because she always had such a beautiful smile and a positive attitude with an energetic approach to life.  Jennifer shared her beautiful gift of voice with the NET Community at the CNETS Canada 2010 Vancouver Conference – a gift we were truly appreciative to receive.  Jennifer's contribution to our community was significant and she will be missed very much.  We extend sincere condolences to Jennifer's family, including her husband, Boris Weiss, former CNETS Canada Board Member and her daughter, Kennedy.
July 13, 1956 – May 10, 2016
Obituary
Suzanne passed away after a lengthy battle with cancer, at the age of 59, at the Ottawa Hospice, Maycourt, on Tuesday, May 10, 2016. Beloved wife of Brian for 39 years. Loving and cherished mother to, Jennifer Buckingham (Scott), Stephanie Beck (Kelly), Cameron Stinson (Garrett). Doting grandmother to, Korbin, Olivia, Aubrey, Preston, and Macey. Dear sister to Gail, Lynn, Donna, Laurie, Randy, Mark, and Leesa, and aunt to her many nieces and nephews. Daughter of Lila Lavergne and the late Raymond Vanasse. Sister-in-law to Joan, Ron, Jean, Bob, Laurence, Jenn, Geoff and the late David, Bob, Bill and Debbie.  Suzanne's family wish to thank Dr. Goodwin and the staff and volunteers at the Ottawa Hospital and Dr. Bright and staff of the RPCT for their care and compassion. For those who wish, contributions in Suzanne's memory may be directed to CNETS Canada.
From Sherry Fox: "It is with deep sadness that I tell you of the passing of our previous NET support group leader, Suzanne Stinson. She was such a sweet, caring, gentle soul and her struggle with this disease the last few years was heroic.  She would reach out to anyone even when she was so ill herself. Suzanne was ministering to others right up until the end.  She will be so missed by all her fellow zebra friends, but is at peace now in heaven. No more pain or sorrow, only happy tears."