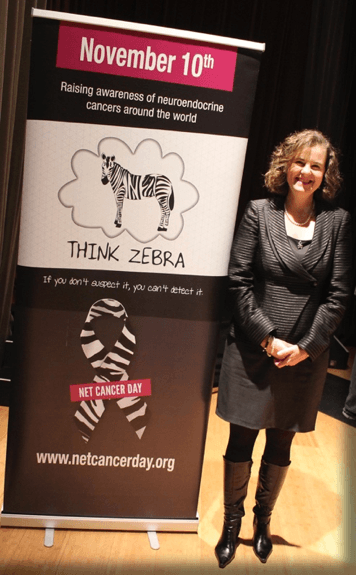 It is my pleasure to once again share a quick note on the work of CNETS Canada over the past several months.  As always, we have been incredibly busy and are happy to report a lot of great success, which you will read further about in this issue of our newsletter.  It always amazes me how fast time flies by!
We were absolutely delighted with the excellent turnout and presentation quality at our 2019 National Patient and Caregiver Conference.  These events are critical educational resources for both newly diagnosed and seasoned patients and they provide a rare opportunity for patients and caregivers to engage with Canadian medical experts from across Canada outside of the clinic.  A huge thanks to all of our presenters for taking time away from their families and out of their weekends to dedicate to the patient and caregiver community.  Your dedication to us is very heartwarming and appreciated.  Also a huge thanks to our funders, without whom we would not be able to provide these incredible events.
We are excited by the multi-disciplinary additions to our Scientific & Medical Advisory Board that you will read about in this issue of our newsletter and the launch of our 2nd annual Medical & Scientific Meeting.  It is important for CNETS Canada to work with, support and engage the Canadian medical community who are critical to the NET patient journey and we are delighted to continue forging ahead with these critical relationships and events.
Another notable success so far this year is the Montreal and Ottawa Fundraising events, which together have raised over $22,000 for NET cancer research!  Way to go Team Zebra Montreal and Team Zebra Ottawa.  The ongoing commitment of our community to raise critical funds for NET cancer research is so appreciated and much needed.  We are looking forward to great success for our third Team Zebra event in Toronto in October.  We had an incredible team last year and a huge fundraising amount and are looking to top it and grow the team even more.  If you are in the GTA and willing to walk or run as a member of Team Zebra in October 2019 please don't hesitate to join. It is a wonderful event and it feels great to give back and contribute to our cause.
On a very sad note I want to take a moment to recognize the tremendous loss we have felt in our community this year.  The loss of anyone to NET cancer is very sad and something we strive to have an impact on in many ways.  I want to specifically mention the loss of four of our Support Group Leaders who were patients who put themselves out there to help others and organize meetings and events for the benefit of the entire community.  The contribution of each and every one of them was incredible and we miss them every day:
Gary Sorge, NET Cancer Patient, Edmonton Support Group Leader
Gary was our very first Support Group Leader in Edmonton, Alberta who took on this new role with incredible zest!  He was a caring, intelligent man who was a great source of information and comfort to his fellow patients.  Gary took the initiative to organize local educational events for NET patients and engaged with Edmonton based NET experts to deliver these sessions.  Gary was engaged on the national level as well and was always in attendance at our national conference and national support group leader training.  He never missed an opportunity to learn and contribute to the cause.  Gary's positive nature was infectious and we remember him as a smiling, happy person, even in the face of adversity.  Gary passed away in January 2019 and is sadly missed by everyone who knew him within the NET community.
Brock Sharpe, NET Cancer Patient, Ottawa Support Group Leader
Brock enthusiastically and graciously took over the role of Ottawa Support Group Leader in July 2018 however Brock had been volunteering with CNETS Canada well before this.  Brock and his wife Gail volunteered with preparations for the 2017 Patient and Caregiver Conference in Toronto and they became very engaged in the awareness and fundraising events for NETs.  Brock demonstrated a great passion for our cause and put an incredible amount of effort into awareness.  He engaged local media (The Equity in Shawville, Quebec ) around the 2017 Ottawa Team Zebra race and was featured twice in the newspaper.  Brock, Gail and their daughter Meredith also obtained support and donations from local businesses and participated in the race.  Brock was front and centre with local November 10th NET Cancer day awareness and was so organized around distribution of NET cancer day materials and swag.  Brock was resourceful and a charismatic leader of the Ottawa group, and had an incredible impact during a short period of time as leader.  Brock passed away in January 2019 and is greatly missed by the extended Ottawa NET community.
Dan Opoku, NET Cancer Patient, Montreal Co-Support Group Leader
Dan was one of the founding members of our Montreal support group and was instrumental in the development of the group.  He also volunteered with CNETS Canada outside of the support group and helped out organizing national and local conferences/patient education days, participated in our marketing effort around fundraising and was the very first moderator of our Zebra Chat series.  An incredibly warm, caring person who made everyone feel welcome and comfortable.  Dan was an incredible patient advocate, carrying out advocacy work on behalf of the patients who most likely never knew.  He was very discreet and respectful with a strong passion for our cause.  Dan was recognized for his contribution as the 2017 recipient of the Maureen Coleman Award. The 2019 Montreal Team Zebra race was dedicated to Dan's memory.  Dan passed away in March 2019 and he is missed very much by the entire community.
Sherry Fox, NET Cancer Patient, Ottawa Support Group Leader
Sherry was a one-of-kind person and long standing leader of the Ottawa Support Group, along with her husband Fred Fox. Sherry worked tirelessly to raise awareness of NET cancer and funds for NET cancer research and her contribution was recognized in 2016 as the Maureen Coleman Award recipient.  Sherry went above and beyond for our cause and her efforts were recently recognized in a special CNETS Canada dedication (add link).  Sherry passed away in April 2019 and is missed by everyone in the community.
Along with the admiration we have of the great accomplishments of the individuals above we feel great sadness that they are no longer with us.  However it is in honour of Gary, Brock, Dan and Sherry and others who has contributed and had such a strong belief in our cause that we forge ahead with hope and optimism for the future.
Jackie Herman